Those of us who take part in an apostolate are used to looking for ways of explaining the presence of God in the easiest way possible, so that even the simplest of our friends  can understand something so great. We struggle trying to understand the 5 ways of proving the existence of God, studying till late and trying to translate the documents offered to us by the Magisterium of the Church. We quote saints and popes, and many of us even take risks, using more creative resources and less conventional methods (but no less effective) showing videos, creating PowerPoint presentations, or visiting Catholic-Link daily to check out what new resource we could use in our religious formation class.
But God makes things easier for us than we could expect. After all, He became a man, and in so doing has passed through the same human experiences as us, like hunger, cold, tiredness, sore feet, etc. Therefore, every human experience teaches us something about God. Everything is full of God, because God Himself experienced all these things, turning them into divine experiences.
So today we offer some ideas to help you realize (or communicate to others) that God has been there, passing perhaps undetected, but always present and ready to listen to you. We are sure you've experienced the existence of God in your own life; this is a great way to understand and explain His real presence, invoking universal human experience.
Share with us what those experiences have been! 😉
1. 
The first time you become a father or mother
It is difficult to explain the sensation of giving life. God is the One who gives life, but, in his infinite love, He lets us be co-creators with Him and collaborate in his plan. Carrying in your arms a person you MADE, but who is at the same time a product of God's Will, is without a doubt a spiritual experience.
2. 
When you are amazed by the immensity of the sky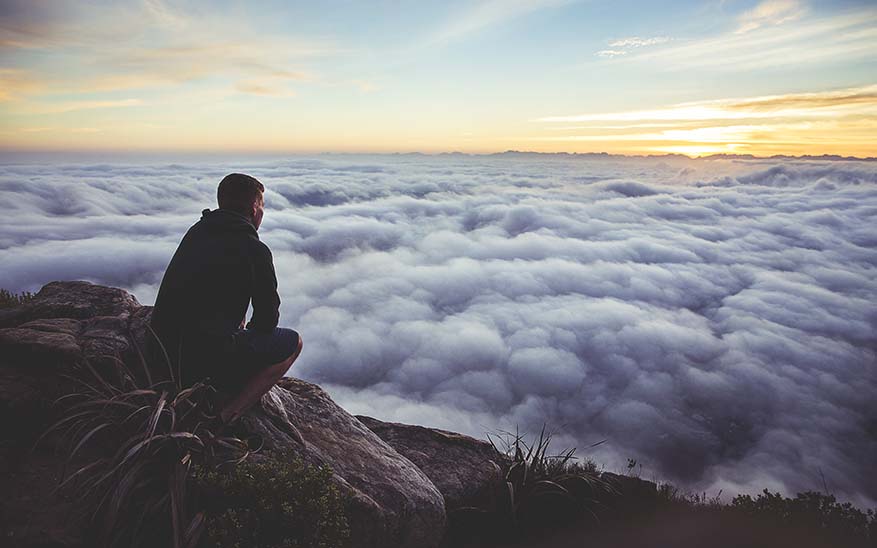 There are moments when we discover that the scope of our vision and understanding is minuscule, that everything is in the hands of someone greater than us. There's nothing we can do to change the color of the sky, the shapes of clouds, or the light that comes through your window. And that's just the stuff we can see! How much more exists in creation that we are not capable of seeing or understanding!
3. 
When you find yourself contemplating your own hands
Perfect and yet imperfect. Skillfully designed, so delicate, yet so firm. To look at how life and chores have aged them, perhaps, but nevertheless they are still the same… and miraculous: those hands God thought about and designed for you.
4. When you notice you've had a long conversation with yourself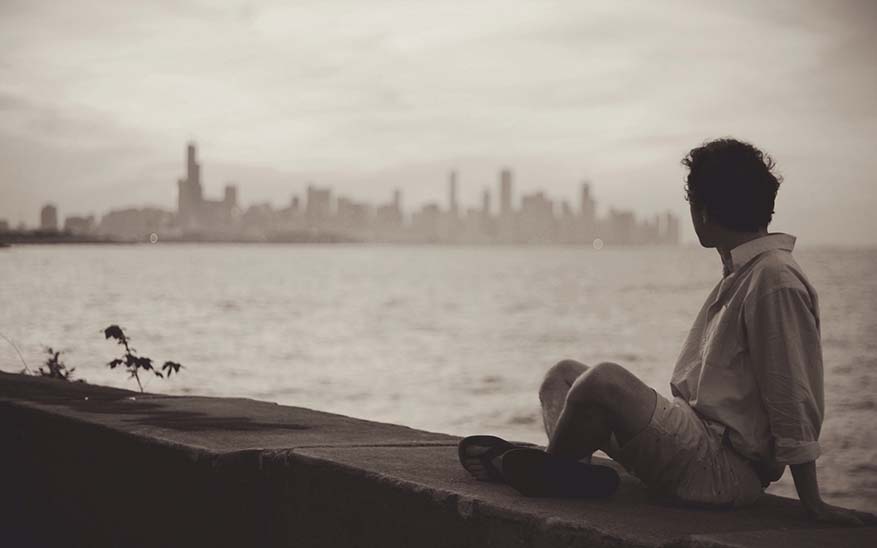 We are not mere pieces of flesh or mechanical objects. There's something inside us that aspires to the highest, that seeks after the good, that longs (often even without knowing it) for God. Talking to yourself, confronting yourself, solving questions or problems… We are not a product of chance. Being as complex and complete as we are is the Will and the result of God's unbounded creativity.
5. 
That day when your heart is inexplicably at peace
There are external causes for calm, like financial security, physical health, family stability, among others, but even if any of these aspects isn't going as well as we would like, there are times when we find a peace in our heart that we can't factually explain. It's as if someone had just put it there.
6. 
When we feel loved
It's not just a matter of acceptance and self-esteem, it's greater than that. Feeling loved is also feeling worthy, is understanding that I am valuable and that even though human love is limited and full of vulnerabilities, this love is a glimmer that shows us how God's love is, and gives us hints about how it feels to be loved by Him.
7. 
When human achievements amaze you
It's as if there were still some lingering sighs of that initial breath that formed everything in creation. We are so accustomed to human intelligence and the speed at which it solves everyday problems, inconveniences, or even things we didn't know we wanted. But we don't realize that just by taking a couple of steps back, we could contemplate and be amazed at what man has created, and how God has given us the intelligence to collaborate with His perfection, and create things as incredible as the skyscrapers and as simple as a spoon.
8. 
When the person we least expect has faith
It's common to make some kind of unintentional judgement about someone else's life and faith. It's also common to "diagnose" some people as a "lost cause," since we think that in their system of values, the experience of faith doesn't fit. But when we see some of those lost sheep"show a glimmer of faith, our hearts light up and hope is revived. When we see them making the sign of the cross, talking about God, sharing messages or quotes about God and faith, and even when they ask for our prayers, our hearts fill with God's love, as we understand that He is even in the the hearts of those we least expected.
9. When things start to get better after you'd despaired of all hope

Sometimes it seems as if God is waiting for us to reach our limit, and when there's nothing else we can do, He starts to act. It may have happened to you that the doors that had been frozen shut inexplicably begin to open, and that situation or struggle which seemed without solution is suddenly unlocked.
10. 
When we accompany a loved one in the last moments of his life
© Jordi Vila/Flickr
It is painful, but seen from the point of view of faith, it's inspiring and comforting to accompany a loved one and see him depart to the encounter with God with a heart full of peace. Those who have accompanied their loved ones in their last moments of life can attest to the intensity of the situation, but also to the peace and consolation of knowing their loved one has gone home to be with the Lord.
This post was translated into English by Lorena Tabares. You may find the original article on the Catholic-Link Spanish page, here.
---
Are you looking for a way to end Lent on a great note and welcome the Easter season with Joy?
The Lanky Guys will take us on a journey through Holy Week, unpacking the Scriptures and walking with us along the steps of the Apostles to see what they saw. Even for those of us who have a hard time opening the bible because we are overwhelmed, this format is a great way to understand scripture in a way that invites us to dive deeper into the Word of God.
With great insight into context and historical application of the scriptures, the Lanky Guys will explain the profound journey of this very important and holy week leading up to the triumph of Easter. Looking at What went right and what went wrong (…or was it what went wrong then what went right?!)… knowing these details will help you personally and on a practical level, by explaining the connections and implications in scripture that are timeless and universal!
Who are the Lanky Guys?
The Lanky Guys have an awesome podcast called The Word on The Hill. The podcast goes over the weekly Sunday scriptures and gives context and profound insight into the meaning and connections of the readings. This podcast is not only smart and spiritually uplifting, it is funny! These guys make me laugh out loud every episode! Watching the video for the conference will make you wish that the audio podcast was video!
Dr. Scott Powell is a teacher and Director of the Aquinas Institute for Catholic Thought, an outreach to the University of Colorado in Boulder. He is also an adjunct professor at Denver's Augustine Institute and has spent the last decade teaching Theology and the Scriptures to groups of all ages. He and his wife Annie are the directors and founders of Camp Wojtyla, a Catholic adventure program for youth, based in the Colorado Rockies. Scott also co-hosts and produces the popular Catholic podcast, "The Word on the Hill with the Lanky Guys." He holds a PhD in Catholic Studies from Maryvale Institute/Liverpool Hope University in England. Scott, his wife Annie, and two children, Lily Avila and Samuel Isaac, live near Boulder, Colorado.
Father Peter Mussett is pastor of the St. Thomas Aquinas Catholic Center, which serves the University of Colorado at Boulder. Fr Peter was ordained in 2006 in the Diocese of Denver, Colorado. "My great joy is people in communion with God and with each other. This communion is my sole occupation in life. I am deeply privileged to do that here in Boulder Colorado at CU. My commitment along with my staff here is to facilitate loving God above all things, and our neighbors as we would love our selves. This journey is arduous, I pray that The St. Thomas Aquinas Catholic Center can be a harbor in that storm and a second home to you."
Check out their awesome promo video!
---
What will participants receive?
Conference: You will participate in a live, online conference (or "Webinar") with Dr. Scott Powell and Fr. Peter Mussett.
Questions and Answers: After the presentation, the Lanky Guys will respond to any questions that might have come to mind during the conference.
Additional Material: During the days leading up to the conference, we will be sending you a series of spiritual resources (texts, videos, book extracts, etc.) that can help you to prepare for the conference.
Recording: A few days after the conference, you will receive by email a link to a recorded version. This way you can go back to anything that you missed or would like to review. Also, if for some reason you weren't able to make it to the live conference, no worries. You can watch it later when it's most convenient for you.
Video response to written questions: This is a new feature! Sometimes we've run out of time to address all questions after a talk. Or, maybe a question or a doubt occurs to you only after the conference had already finished. As a participant, you can send an email to the speaker(s) and he or she will respond with a final video.
---
The conference time for each city
To see what time the conference will happen where you live, click HERE. In any case, remember that the conference will be held on Saturday, April 8, 2017: 10 AM in Los Angeles, 1 PM in New York, 1 AM (9th) in the Philippines.
Pacific Time Zone: 10:00 AM
Mountain Time Zone: 11:00 AM
Central Time Zone: 12:00 PM
Eastern Time Zone: 1:00 PM
Central European Time Zone: 7:00 PM
Philippine Time Zone: 1:00 AM
You can also take a look at a live countdown by clicking here.
**REMEMBER that if for any reason you are not able to make it, we will be emailing you a link to the recorded version after the conference.
---
How to participate?
If you would like to participate, all you have to do is make a voluntary donation to Catholic-Link. Immediately afterward, you will receive detailed information explaining how to access the platform that will host our workshop. Any donation amount is acceptable! This money will go to covering the costs of our websites and to maintaining our evangelization projects such as the series: "A Minute with Pope Francis." After registering, be on the look out for other great offers from Catholic-Link and our partner organizations!
Free for Catholic-Link Benefactors!
Finally, remember that in addition to free coupons for Catholic businesses and monthly giveaways, Catholic-Link Benefactors receive FREE access to our monthly Online Conferences. If you would like to become a Catholic-Link Benefactor and support us with a recurring monthly donation, you may do so Here.