This time of year is when many people start frantically searching for the perfect gift for every person on their list. It can be overwhelming, time-consuming, and draining. Many times we lose the joy and peace that comes with Christmas because we are so worried about the gifts. We've compiled a list of meaningful Catholic gifts to help you get started. When spending money, wouldn't you much rather give a present that will help a person to grow spiritually and encourage them in their faith?
Our list of top Catholic gifts is back and even better than last year's list! We've kept some of your old favorites, but added many unique items to our list. More than ever, it is so important that we show our support to local and small businesses this Christmas season, especially those that are committed to selling quality Catholic products. When you buy one of these gifts for the Catholic on your list (or for yourself!) be assured that you will be supporting the ministry and work of businesses that are sharing the message of Christ through their merchandise.
We encourage you to take a look around each of these websites by clicking on the link provided. Be sure to check out the Black Friday and Cyber Monday deals that many will be offering. Shop Catholic!
The Top 35 Catholic Christmas Gifts :
These are just
so
cool, fun and unique. Described as "USB flash drives with a Catholic flair" they are the perfect gift for the Catholic techie or college student you need to buy for. There are many flash drives to choose from – everything from a St. Benedict Medal to Pope Francis.
Absolutely adorable Saint dolls that your children will love. This is a personal favorite of mine because at 3.5 inches the dolls fit perfectly into the hands of a toddler. They are made of "high-quality rotocasted vinyl; which means nothing moves, breaks, or falls off", which also makes them super easy to clean. My daughter loves to take her Mary doll with her to hold at Mass each week. They offer several Marys – from Our Lady of Fatima to Our Lady of Kibeho – and many Saints plus each doll comes with a booklet with prayers and information. Shining Light Dolls also sells board books and prints.
Featuring handmade Catholic Home Decor & Gifts from saint quotes and scripture verses to painted Catholic Bibles, you're sure to find something unique and meaningful for your friends and family! You can request a custom made quote, which makes such a thoughtful gift for any loved one.
Surprisingly, many Catholics are in need of a good Catholic Bible. Sometimes we forget that a Protestant Bible is missing a few of the books! A Bible is a much-needed resource in the home of every Catholic and this JPII Adventure Bible exclusively available from The Catholic Company. "With extensive notes, commentary, and cross-references, the NABRE will promote a deeper love and understanding of Scripture in the home, parish and school. In addition to its wealth of study material, each bible features a 3-year liturgical cycle of Sunday readings, a 2-year liturgical cycle of daily Mass readings, a listing of popes, and a manual of favorite Catholic prayers."
This is a wonderful book for anyone on your Christmas list looking to grow in their understanding of God's love and mercy. "In this book, Mike Pacer offers a loving, heartfelt account of the hope he's found in Divine Mercy. Through his personal reflections on Scripture, St. Faustina's writings, and the theological virtues, he offers fresh insights into the hope-filled mystery of God's merciful love."– Fr. Michael E. Gaitley
Every home should have a nativity set and it does not need to be put away when the Christmas season ends! This unique miniature set is available only from the
Catholic Company
and comes in a personalized keepsake star box.
This Etsy shop primarily focuses on high-quality custom-made Catholic jewelry. Customers can request specific antique medals and gemstones to make a special and unique piece. Visit this shop and look around because the pieces featured are absolutely stunning. Here is a description of the custom necklace (valued at $228) that will be included in our Giveaway: A beautiful Catholic medal set in a fresh and modern design. This necklace is a feminine and light combination of faceted and sparkling white rainbow moonstone (with a subtle flash of blue), varying blue-green-violet hues of faceted fluorite and dainty soft pillows of white freshwater pearls. The centerpiece is an antique replica of the Dove of the Holy Spirit. It is in 18k gold vermeil over bronze, a nice, solid piece. Dangling from the Dove is a sparkly cluster of moonstone, fluorite, and pearls. Enjoy this special, one-of-a-kind necklace!
This is an excellent gift for the person on your list who doesn't like to read much but wants to grow more in his or her faith. Tweeting With God is a book that is broken down into "tweets" about the Catholic faith. It's easy to read just one tweet a day or to quickly look something up on a need to know basis. This book doesn't require sitting down and reading from cover to cover, yet draws wisdom from YOUCAT and the Catechism.
From Humdrum to Holy A Step-by-Step Guide to Living Like a Saint has been one of my favorite books of this year! The simple, yet profound truths in this book have led me into some great insight and deeper spiritual awareness in my own life. The practical suggestions and applications are excellent! This book is an easy read. An excellent gift for anyone striving to become a Saint!
10. A Handmade Rosary from Marian Graces
These beautiful rosaries are made by homeschooling, mother of seven! Natalie offers many choices to suit your taste and budget – from a one-decade pocket rosary to a bronze rosary, as well as rosary markers with your favorite saint attached to keep your spot if your rosary is interrupted. This is a timeless gift that will be treasured for generations!
I'm pretty sure these are the cutest Catholic swag that money can buy. Tiny Saints offers tiny saints (surprise!) on a keychain. You can clip these charms to your keys, backpack, or even a pet collar. There is a wide variety of Saints to choose from and you are sure to find one that is special to you and your family. At just $5, they are the perfect gifts for teachers, friends, or to use as stocking stuffers. Tiny Saints also sells board books, bracelets, and rosaries.
The perfect gift for the busy mom in your life! An easy, yet thought-provoking read, this book will help any mom grow in her understanding of mercy. "Divine Mercy for Moms: Sharing the Lessons of St. Faustina nurtures the hearts of mothers with this gentle introduction to the life and spirituality of St. Faustina Kowalska. Combining classic Catholic spirituality with our personal experiences, the book shows busy moms how to receive and respond to Divine Mercy in their own lives, and to pass it on to others through word, deed, and prayer." In addition to the book, the website also sells beautiful divine mercy bracelets, one of which will also be included in our giveaway!
Radiant is a modern, Catholic magazine for young women. They help women live out the teachings of the Catholic faith with style, elegance, beauty, and grace. This magazine seeks to uplift and empower young women. Great gift for a teen or young adult!
What is lifeweapon? It is a wearable prayer band. "The band serves as a reminder to prayer, like tying a string around your finger… use it to pray. run your thumb along it and pray the Jesus prayer. Pray the Rosary with it. Rub the heartbeats like a worry stone." At just $1, the lifeweapon prayer bands make a great gift for a class, small group bible study, or co-workers. I'm also putting a few of these in my sons' stockings this year. This company has a great mission and a desire to see more people praying!
This is just the gift for the Catholic Coffee lover on your list, we highly recommend this gourmet coffee roasted by
Carmelite Monks in Wyoming. "The monks put all of their drive for perfection into every roast of coffee and every coffee blend they produce." They have a vast selection of coffee, teas and all the products needed to make it." Coffee made by Monks…a taste of heaven on earth?!
If you're looking to hit a home run in the eye's of the parents of a young child, this is the gift you should buy! "A program for 3-7-year-olds to help your family get ready for each and every Mass with craft supplies, kids missals, and coloring sheets delivered every month to your door!" This is a fun and innovative product that will help both children and parents pay more attention at Mass.
A Catholic-Link reader recommended Cherubalm for our list this year and I see why. CheruBalm is a premium, all-natural baby skin balm whose flagship product smells like the chrism oil used during baptism. Their other scents include a calming lavender-chamomile blend, a rose geranium blend inspired by Saint Therese and a unscented version. Their products are great for all skin types and are completely safe for use with cloth diapers. CheruBalm's owners and creators are a Catholic husband and wife team with 5 kids. I can't stop smelling the box they came in. Truly, a heavenly scent!
It's fun to wear your faith! These trendy t-shirts would be a good choice for a teen or young adult. A stylish and subtle way to evangelize, while also looking good. They have a selection of both men's and women's styles, as well as hats and other products. Don't forget to take a break and check out the good content on The Living Person's blog while you are busy doing your shopping. The Living Person challenges Catholics to become fully alive and inspired by the St. Irenaeus quote "The glory of God is the human person fully alive."
19. A handmade holy card or piece of jewelry from Soul Stirrings
Soul Stirrings Gifts are one-of-a-kind creations made from beautiful vintage and antique Catholic holy cards, medals, Crucifixes, and more. Each piece is lovingly made, with the desire to give new life and purpose to these traditional images of the Catholic faith. Gorgeous antique velvets and ribbons from France, Germany, Switzerland, England and elsewhere are added to many of the creations, giving them an Old World flair. Most of the jewelry pieces feature a vintage or antique medal and aim to blend contemporary style with a touch of vintage. Visit Soul Stirrings Gifts on Etsy.com or at the website http:www.soulstirringsgifts.com. The necklace (middle picture) will be in our Giveaway package, valued at $59.95.
Yes, this a gift for children, but speaking as a parent they are just as much a gift for parents. The Cat Chat CDs offer catchy, faith-based songs and solid Catholic teaching in the form of entertaining stories that kids love. Why will parents also love Cat Chat? Car rides. These CDs are perfect to keep kids occupied and quiet while you are in the car. My kids listen to these stories over and over!
If there is someone in your life who is a recent convert to the Catholic faith or is in the process of becoming Catholic, this 6 cd set would be a wonderful choice for them. Dr. Scott Hahn carefully examines many of the objections that people have with the Catholic Faith.
Most people believe that there's something special about our "hearts." Not just the physical organ, but something more. Most people understand that there's something "inside us" that goes beyond the physical realm and into the spiritual. There's something inside us that could be described as a "sacred place within," or, more appropriately, a "sacred presence within." With this in mind, we are forced to ask, "Who or what is this sacred presence, and does it exist in everyone regardless of race, culture, or even religious beliefs?"
There is something special about handmade products. At this Etsy shop you can find chapel veils, books, and Christmas ornaments, and soon they are adding stationery, crucifixes, and bookmarks. One thing that stood out to me about this business: Our shop donates 10% profits to Catholic Churches and sends care packages to American Troops every 50 sales through operationgratitude.com. How great is that?!
24. A Catholic Coloring Book for Adults from Drawn to the Faith
These coloring books are a beautiful and unique gift. With a variety of types to choose from, I know these would make a good gift for anyone that needs to unwind and relax.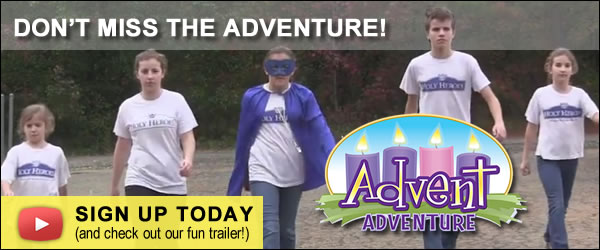 Some of my children's favorite gifts are from Holy Heroes. The Glory Stories and Treasure Box books are among their top choices, but they also love the Saints Matching Game and Adventure Bible. There are so many wonderful products available at Holy Heroes that you can't go wrong choosing any one of them!
This is a great choice for a teenager, but I have grown from reading DOCAT myself, so I recommend it for adults too! "DOCAT is the latest title in the international best-selling YOUCAT series for young people. With its focus on the social teaching of the Catholic Church, DOCAT shows young people how to work towards building a "civilization of love". Written in the ever-popular style associated with the series, DOCAT tackles tough questions on issues like politics and economics, human rights, the family and the environment."
"The Josh Blakesley Band has acknowledged a simple calling: To make music that moves people into prayer and action." If you're looking to introduce someone in your life to Christian music, the Josh Blakesley Band is a great choice. 'The band partners with the Franciscan University of Steubenville for their youth and young adult conferences, Life Teen International, Catholic Heart Work Camps, Adore Ministries, as well as many churches, camps and conferences of all sizes in an effort to live out their calling and to 'make disciples of all nations.' (Matthew 28:18)"
CatholiCar
sells "Vehicle Decals For Roamin' Catholics" and they have a large selection to choose from. A
ll the decals (except the double St. Benedict), fit nicely in most Christmas cards, so if someone is looking to send a simple Catholic gift to friends and family, the shipping cost is not much more than the postage for the card itself!
If you're looking for an alternative to some of the other popular dolls currently on the market, these Dolls from Heaven are an excellent choice!
"

Dolls from heaven are 18 inch Saint Dolls. They come with an outfit based on what the Saint wore during their life. They also come with a book that will inspire children to become saints."
Though our giveaway will not include the doll, you will receive
Therese Sunday Best Outfit, the "I am Therese" book and the "She is Joan of Arc" book.
30. A Good Christian Movie
In our giveaway package we will include the movie RISEN, but other movies that would make a good gift might include God's Not Dead 2, Miracles from Heaven, or even an old classic such as It's A Wonderful Life. Include some popcorn and candy and this gift will be a hit!
"If you think you know Francis of Assisi, you're in for a surprise. Discover the astonishing life of Brother Francis, the fun-loving son of wealth and privilege who gave up everything for the sake of Christ. As a young soldier, he encountered suffering. As a victim of war, he began a search for inner meaning that would redirect his life. As a holy beggar, he embraced lepers, shook hands with the Pope, debated a Sultan, and touched the lives of millions." This would be a unique gift for anyone that spends a lot of time in the car because they could listen while they drive.
"It is no small thing that the deep calm of ocean blue is the identifying color of Mother Teresa, the saint who tells us that change is casting stones across the ocean and that we need only make one small ripple at a time. Use this glass holy water bottle to create ripples in your own oceans. The unique shape lends the charismatic appearance of stained glass; so this glass bottle will feel like a little cathedral home for your holy water. Lovely to behold, this unique Mother Teresa holy water bottle will be meaningful for your soul, and helpful as a visual reminder." Get Yours Here!
If you're a regular Catholic-Link reader, you've probably noticed my slight obsession with the mission of this company, as well as the fabulous Blessing Bracelets and other jewelry they sell. I have several of my own pieces, but also love to give them as gifts for others. I've added more than a few more to my own Christmas wish list (hint, hint). I love the simple, yet beautiful design as well as the meaning behind each product. It's like wearing a prayer. Even more, I love that the proceeds go back to help empower the women who make the products. You will receive FOUR bracelets as a part of our giveaway package!
Maybe a material gift is not what you are searching for at all! Donating to help alleviate poverty in America to Catholic Charities or spending time giving your talents to serve others in a friend or family member's honor is a thoughtful gift for the person who seems to have everything.
Of course, the ultimate gift we can give to anyone on our list is the gift of prayer! Check out PrayMoreNovenas.com and find out how you can commit to praying a novena for a friend or family member.
---
Ready To Win 2021's Incredible Catholic Gifts?!
One Catholic-Link email subscriber will have the opportunity to win. To enter, simply make sure you are on our email list! Bonus: You'll be entered to win all the other Gift Guide categories as well: Women's Catholic Gifts, Children's Catholic Gifts, Catholic Home Gifts, and Catholic Books. Earn additional entries by referring friends to subscribe to our emails! Send a screenshot to: catholiclinkgiveaway@gmail.com.